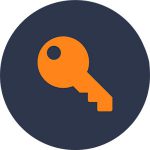 Today, Tuesday, August 20, every student's ACPS Network Account Password will reset to their student lunch number. New students will receive their ACPS network information at their school.
As we shared with you in a June 3 Compass post, beginning this school year, all students in grades 3-12 must change their passwords a minimum of once per year.
After allowing time for our educators to have conversations with students about secure passwords, students in grades 3-12 who have not yet changed their default password will be required through a prompt to change their password on September 18, 2019.
If you have questions, please connect with your school's Learning Technology Integrator.