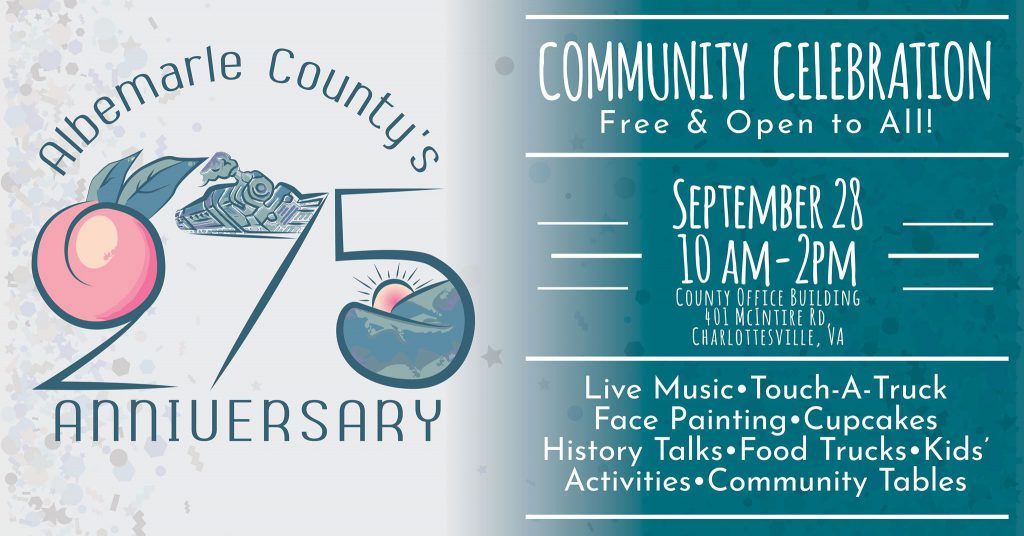 Saturday, September 28 | 10 a.m. to 2 p.m. | County Office Building, 401 McIntire Road, Charlottesville
This year marks the 275th anniversary of the founding of Albemarle County. What better way to celebrate than with our community? Please join us to learn about our past, embrace our present, and dream about our future. This special event is free and open to all!
Learn About Our Past
Visit the new history exhibit on the 1st Floor of the County Office Building (throughout).
Learn from talks by Dr. Andrea Douglas and Dede Smith (11 a.m.) and Dr. Sara Bon-Harper (1 p.m.).
Embrace the Present
Listen to music by the Municipal Band (throughout).
Explore kids activities at the Touch-a-Truck (throughout).
Participate in our celebration program (noon).
Learn about County and community services (throughout).
Dream About the Future
View art by Albemarle County Public School students (throughout).
Star in our "video time capsule" (10 a.m. to noon).