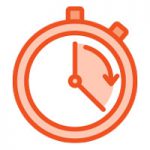 Based on feedback received regarding the training for Kronos, our new time and attendance system, we have made a few adjustments to the training schedule.
Please note the following:
Non-Exempt, Exempt & Teacher Self-Paced Modules: These links will be sent out via the Compass and through a no-reply email on October 4. The modules should take all of our employees no more than an hour to complete. Feedback indicated the desire for Supervisors to have their training prior to the roll out of the modules, as their employees may have questions for them.
Supervisor Training: Each supervisor will participate in a two-hour training sessions on October 1, 2 or 3. All people identified as Supervisors for time and attendance will need to attend one session on those days. Supervisors should look at the September 23 issue of the Superintendent's Advisory Bulletin (SAB) for a link to sign up for a session.
Time Keeper Training: Earlier this week, the Time Keepers participated in the second of a series of required training sessions for this group. Time Keeper Training is the most intensive of the Kronos trainings. Time Keepers are asked to participate in the next session, choosing either September 30 or October 3. More information regarding this will be sent directly to the Time Keepers. Optional sessions will be held on October 14 and 22.
Also, Post-Implementation Support will be provided through teams deployed to assist around technical, policy and system support needs. More information about that will be forthcoming.
---
Please stay tuned to the Compass for Kronos implementation updates. For project details, you can visit the Time & Attendance System Project web page hosted by Albemarle County Human Resources through their Employee Resources website. You also may email questions to time@albemarle.org.