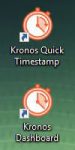 Have you noticed two new shortcuts on your computer's desktop? A shortcut for the Kronos Quick Time Stamp has been added, as well as a shortcut for the Kronos Dashboard (Kronos Workforce Central), the full client website.
What does this mean? For the schools and departments implementing Kronos in Phase I on October 19, those shortcuts will allow you to log in and access the time and attendance system. For those schools and departments that will implement in mid-November as part of Phase II, you will see these shortcuts, but you will not be able to use them to log in until Phase II launches.
Visit the Time and Attendance web page for more information about Kronos and to access all of the training modules.