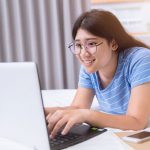 The Department of Technology has been working on a plan to support ACPS families and promote our Digital Learning Initiative at home. The program, known as ACPS@Home, works through partnerships with five major cell phone providers (AT&T, Sprint, T-Mobile, US Cellular, and Verizon) and Kajeet to distribute Wi-Fi HotSpots to students without access to the Internet at home. With the current school closures, the interest in participating in this program has increased dramatically.
The demand for these HotSpots far exceeds the national supply available at this time. School administrative teams collected the names of over 650 students and staff who reported that they have no Internet access. School division leadership determined that priority should be given first to teachers and then to high school students through a lottery system, beginning with seniors and working down to freshmen, as inventory allows. Anyone that is selected to receive a HotSpot will receive direct communication about next steps.
While we cannot honor every request for a HotSpot, we have some other options available. The school division has extended Internet Wi-Fi access to all school parking lots and the Yancey School Community Center. This allows families to come to any school parking lot and gain access to the Internet, enabling students to download and upload schoolwork, or they may request a flash drive from their school.
Some private companies also are offering internet access for various locations with reduced pricing options:
For more information about ACPS@Home, please contact Bert Jacoby, Coordinator of Digital Equity.