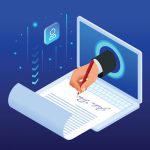 We are excited to announce that licensed teacher and administrator contracts for the 2020-2021 school year will be sent to you electronically this year! Due to the impact of the COVID-19 pandemic, we had to innovate!
Contracts for licensed teachers and administrators will be sent to your ACPS work email address. They will be sent from "ACPS Contracts" (acpscontracts@albemarle.org) on Friday, June 12, after the School Board approves reappointments Thursday evening. Contracts will be sent in batches and may take some time to send, so please do not worry if a colleague receives theirs before you. Please check your email Friday afternoon. If you do not receive your contract by Monday, June 15, please email acpscontracts@albemarle.org for assistance.
You will sign your contract electronically through Adobe Acrobat Reader DC and email it back to the same email address (acpscontracts@albemarle.org). Instructions will be provided with your contract. If you experience difficulties signing your contract electronically, the ACPS Service Desk is available to assist. You can reach them by phone at 434-975-9444 or email at servicedesk@k12albemarle.org.
Signed contracts are due by June 26, 2020.
We appreciate your patience as we roll out a brand new procedure, which may be the new way to distribute over 1,300 contracts! Not only does it save the school division time and money, but it also is much more environmentally friendly!