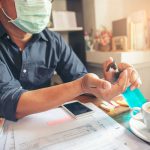 As a reminder, Summer Phase 2 begins on Monday, July 6. During this phase, our 12-month employees who have been teleworking will begin to transition back to their workspaces. The expectation is that all staff will be working back on site by July 20 (15 work days prior to the return of the teaching staff). Please contact your supervisor to discuss what your balance of in person vs. telecommuting work will be as you transition back to the office. This will vary by position.
As you physically return, all employees should follow the Phase 2 guidelines for returning to work, including:
Employees should complete a symptom self-evaluation each time they enter a building. If you're sick, do not enter the building.
Hand sanitizer stations will be placed at all main entrances. Everyone who enters must sanitize their hands as they enter a building and continue to wash their hands frequently during the workday.
All employees and visitors should wear a mask while in common areas of a building, including entrances, hallways, break rooms, etc., and while around other people.
Individuals are responsible for cleaning their personal workspace each day.
Resources