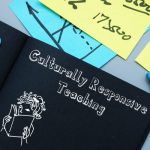 Are you interested in starting your Culturally Responsive Teaching (CRT) journey, but you're not ready to commit to a cohort? Or, do you know of someone in your building or department who might be interested? Module training is a great way to begin—it's not just for CRT Certification or Micro-credential candidates, it's for everyone!
CRT module training introduces participants to the ACPS CRT Framework. The six-hour professional development series is divided into three two-hour sessions, one for each of the "Three Characteristics of CRT."
September/October Module Training Schedule
Participants should attend one option for each of the three sessions.
CRT Session #1:

Friday, September 25 | 7 to 9 a.m.
CRT Session #2:
Monday, September 28 | 4:45 to 6:45 p.m.
Friday, October 2 | 7 to 9 a.m.
CRT Session #3:
Monday, October 5 | 4:45 to 6:45 p.m.
Friday, October 9 | 7 to 9 a.m.
Interested?
Please RSVP by completing our CRT Module Training Interest Form.
Note: We are planning to offer CRT module training again in January/February.
Questions?
For more information, please reach out to the appropriate contact: