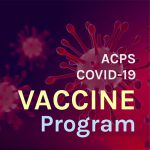 We continue to work closely with the Blue Ridge Health District (BRHD) regarding the distribution of the COVID-19 vaccine to our employees. 
Information You Need to Provide
Later this week, you will receive an email with a link to a form that asks you to provide information regarding your first and second doses of the COVID-19 vaccine. If you have already received one or both doses, please fill out the form when you get the link. If you haven't, please save the email for future use.
ACPS uses the information you provide in our COVID-19 forms and surveys to: 
Continue to evaluate and respond to the vaccine needs of our employees;
Provide more accurate information to the BRHD for scheduling and dose allocation purposes; and 
Update our vaccine status for reporting to our School Board and the Virginia Department of Education.
First Doses: Appointment Update
If you desire a vaccine and have not yet been able to schedule your first dose, please continue to monitor the VAMS site for available appointments. The BRHD continues to open appointments as they become available. They will continue to add appointments based on the number of doses that are allocated to them weekly—not just for ACPS employees, but for all those across the entire health district who have been identified in Phases 1A and 1B of the vaccine distribution plan. 
If you continue to have trouble scheduling an appointment, please ensure that your principal or supervisor is aware. We are keeping a central database of this need and are attempting to connect employees with opportunities for appointments as we learn about them. 
Second Doses: What's the Plan?
The BRHD recently shared their new plan for handling all appointments for the second dose of the COVID-19 vaccine. (Please note that this plan applies only to people who received or plan to receive their first COVID-19 vaccine at a BRHD site.) Details are included below and also can be viewed in the BRHD's February 5 newsletter, BRHD COVID-19 Update: COVID-19 Vaccination Plans:
Effective February 3, individuals vaccinated at BRHD sites will schedule a 2nd dose appointment at their 1st dose appointment. These appointments will be scheduled and confirmed prior to leaving the vaccination site.
Individuals who received their 1st dose of COVID-19 vaccine prior to February 3 at a BRHD site will be contacted via email regarding their 2nd dose appointment. BRHD is reserving slots not visible on the VAMS website to ensure those who need to come for their 2nd dose can get it in the appropriate time frame.
BRHD has enough doses for everyone to receive a 2nd vaccine of the same brand as their 1st dose. The weekly shipment of vaccines that BRHD receives is for 1st doses only; BRHD receives a separate shipment allocated for 2nd dose vaccines.
Employees who received their first dose at the ACPS/CCS clinic at the MLK Center at Charlottesville High School January 28-30 will be scheduled to receive their second dose on Friday, February 26, or Saturday, February 27. We will share details about the appointment reservation process as soon as they are finalized.
If you have questions related to the scheduling of the vaccine, please email vaccine@k12albemarle.org.