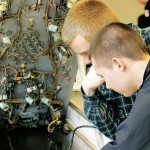 Newsweek describes the Maker Movement as a "global community of inventors, designers, engineers, artists, programmers, hackers, tinkerers, craftsmen and DIY'ers." In her September 8 story, Maker Movement Reinvents Education, reporter Louise Stewart noted the use of 3-D printers as a key resource and said of Albemarle County Public Schools:
It's not just private school kids who are using this technology. Public schools are also beginning to experiment. Albemarle County Public Schools, for example, a 27-school district serving nearly 13,000 students in the area surrounding Charlottesville, Virginia, is developing classes like the one Simonoff took at St. Ann's and assignments like the giant wheel project at High Tech High. The superintendent of Albemarle County Public Schools, Pam Moran, says many of her students are beginning to "see themselves as designers, makers." She says they're now "constantly looking at the world in terms of problems that they can solve." Moran tells an anecdote about one of her high schoolers, who noticed that a screw was missing from the couch in the library and rushed to the librarian to tell her that he could fix it. The student removed another screw to get the dimensions of the one that was missing and came back later that week with an exact copy he'd designed and 3-D printed, which he then used to fix the couch.
Moran says her district's goal is to create experiences for its students that "make learning so powerful and memorable" that they'll seek out those types of experiences post-graduation. Her teaching staff at Sutherland Middle School recently came up with an eighth-grade assignment at a time when, in science, the students were learning about electricity; in history, they were studying 19th century America; and in computer science and engineering, they were 3-D modeling. The teachers of all three subjects came together with the idea of having the kids build Vail telegraphs using 3-D-designed-and-printed parts. After completing the project, an eighth grader named Jennifer said, "We…really understand electricity much better than we would if, say, we just made an electromagnet and started picking up paper clips. It's just easier to understand something if it's right in front of you and you can do different things to it—and see the reactions."
She and another student, Nate, gave a technical explanation of how the telegraph functions when the students presented their project at the Smithsonian museum in Washington, D.C. They also discussed the historical context—"like during the Civil War," Jennifer explained, "they needed relays, so if the electricity were to burn out, the relay would keep the fresh electricity going." After the presentation, the kids set up one telegraph at their middle school and another at the elementary school to communicate between the two with the help of a smartphone app that translates Morse code. In addition to being a fun activity, this put the students in the shoes of the people they were studying in history. "I learn better when I'm experiencing it," says Jennifer.
While this kind of education does result in the gain of measurable, practical skills, "it's really about the problem-solving skills as opposed to the specific [technical] skills," says David Wells, manager of creative making and learning at the New York Hall of Science. It's about teaching kids how to break down their big ideas into smaller components in order to figure out a plausible first step. It's about helping students become familiar not just with makerspace tools but, more important, with the process of finding, accessing and using information to teach themselves how to do whatever it is they want to do, and make whatever they want to make.
As Wells says, "We're developing the 'I can' mentality."