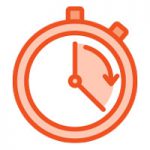 We've all been there. A new technology comes along, and suddenly there's a learning curve that wasn't there before. But once you were on the other side of it, it's likely you wondered how you'd ever managed "the old way."
Today, we are on the edge of the old way … and a new, better way is on the immediate horizon. In the next few weeks, you'll be at the start of a new learning curve, and you're going to have company: All of us will be there with you.
The implementation of our new time and attendance system is going to be a game-changer. You will be able to:
Request leave and have it approved through Kronos;
See your leave balances in real time so you can more effectively plan your leave usage; and
Log in to the time and attendance system using either a smartphone app, a personal device that has web access, or one of the devices located in schools and other Albemarle County buildings.
Also:
Non-Exempt employees: You will have more control of the time and leave information that goes into your record; and
Exempt employees: If you receive pay for additional roles or activities, you will be able to enter that information, and once approved, it will go directly to the payroll department.
All of the processes involved with managing leave and time worked will become more efficient, as employees and those who supervise them will be responsible for managing those processes. That will help your pay and leave information be more accurate and transparent than is possible with our current way of doing business. But we've got to get there first.
Building new habits takes time—and we know this. We've learned from the Albemarle County Government (which went live with Kronos in April) and other employers that it can take 2-3 months before the new becomes the new normal, and we're prepared for that.
Every employee and every supervisor will receive training on the new system. You'll complete a training module specific to your role. We'll also have open lab time beginning in late June and running through August to allow you to practice using Kronos and have your questions answered. And, just like you have now, your school or department will have an expert (your timekeeper) who you can go to when you need guidance.
So, what can you do to get ready for this change? Besides completing your training module (coming soon), simply be prepared to be patient with yourself. Be patient with your supervisor. And, finally, be patient with the time and attendance system as we all get acquainted with it and form the new habits that will replace the old ones. One thing is guaranteed: We WILL get there … and we'll get there together.
---
Please stay tuned to the Compass for Kronos implementation updates. For project details, you can visit the Time & Attendance System Project web page hosted by Albemarle County Human Resources through their Employee Resources website. You also may email questions to time@albemarle.org.