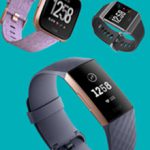 Albemarle County has again teamed up with Anthem to offer a Fitbit activity tracker to all regular* employees at a discounted and subsidized price. Each regular employee also can offer up to two friends and/or family members a discounted purchase price. Get the details »
This purchase window is open through June 30, 2019. Regular employees are eligible for one subsidized Fitbit plus up to two discounted Fitbits for friends and family in the 12-month period from May 1, 2019 – April 30, 2020.
BeWell Albemarle plans to continue the Fitbit program as long as there is interest and participation from employees, so there will be another purchase window in late 2019.
*Not including substitutes or temporary employees, sorry.​​