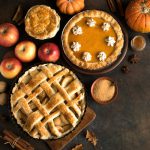 It's a pie sale! CATEC's 18th annual Culinary Arts Thanksgiving Fundraiser will accept orders through noon on Friday, November 15! Pumpkin or apple … or both! Get yours now »
Perfect Pumpkin Pie
A holiday favorite! Ginger snap crust pie with silky pumpkin filling perfectly spiced for a warm fall bite. $20 per pie (serves 8).
Carter Mountain Apple Pie
Local apples hand picked by CATEC Culinary Arts students. A delicious blend of the mountain's bounty featuring Granny Smith, Fuji, and Stayman, with a handmade páte brisee crust. $20 per pie (serves 8).
Questions or comments?
Please email Chef Carol Robbs or call 434-973-4461 ext. 69104.