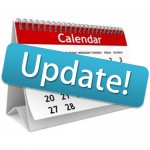 Dear Colleagues:
As our planning for the coming school year begins to come into better focus, one option we are considering is delaying the start of the new school year until early September.
Our School Board initially approved a 2020-21 calendar in January with Wednesday, August 19, as the first day of school for students. Based largely on feedback from instructional staff that, under current conditions, extra time for planning and preparation would be beneficial, we drafted two additional calendar options for the coming school year. One moves the start date of the new school year to Wednesday, September 2; the other would have school begin after Labor Day on Tuesday, September 8. In both cases, the school year would close on Friday, June 18. The options preserve traditional schedule breaks and do not change the contractual obligations of staff.
We encourage you to review these options and then offer your opinion in a brief survey. We will share your responses with the School Board, who will make a final determination on the calendar for the 2020-21 school year on or before June 26.
Please participate in our survey by 11:59 p.m. on Wednesday, June 17. Thank you in advance for your contribution.
Please stay safe,
Dr. Patrick McLaughlin
Chief of Strategic Planning