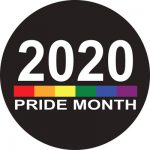 Dear School Employees:
As a long time employee of Albemarle County, I am absolutely honored and excited to be a part of this group and to make this announcement. This is a message I never thought I would get to write.
You may have heard: We have been working on putting together an LGBTQIA+ Affinity Group for Albemarle County Local Government and Schools. We have completed the chartering process with the Office of Equity and Inclusion and are excited to extend an invitation to interested members to connect.
Anyone who shares our aim of fostering an environment at Albemarle County where lesbian, gay, bisexual and transgender employees, as well as their allies, feel a sense of inclusion, community and opportunity is welcome to join.
If interested, please indicate your willingness to connect further by emailing lgbtqia@albemarle.org.
Happy PRIDE month.
Lisa Green
Chair, Albemarle County LGBTQIA Affinity Group
lgbtqia@albemarle.org
An affinity group is a group formed around a common purpose, interest or goal. Affinity groups play an important role in fostering inclusive workplace environments.