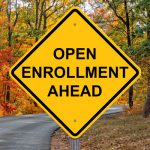 Mark your calendar: Online Open Enrollment will be available November 1-13! Open Enrollment is your ONE time of year to make any change you wish to your current medical or dental elections: You can add/drop/change a plan or add/drop dependents. It's also the one time of year when you can enroll in a medical or dependent care Flexible Spending Account (FSA), as these do not roll over from year to year. Plus, it's always a good idea to log in to your personal Open Enrollment site annually to verify your plan elections and confirm other information about you and your covered dependent(s).
As the Open Enrollment window approaches, keep an eye on your email for more information in issues of benefitsFOCUS. In the meantime, here's some good news for next year: There will be NO increase to employee medical or dental premiums for the 2021 plan year!
---
From medical insurance to long-term disability coverage, you can learn more about group and voluntary benefits programs on the Employee Benefits web page.