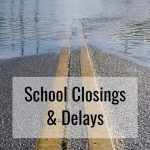 Did you miss this morning's inclement weather message?
ACPS employees can learn the division's school schedule status during inclement weather in several ways. Here are the two fastest:
Call the School Schedule Hotline at 434-296-5886 to listen to a prerecorded message about school operations for the day. This recording is updated by 5:30 a.m. every school day.
Receive an alert through the Electronic School Notification System by phone (landline or cellular) and/or email. This is an opt-in service. Employees can register to receive electronic notifications or edit their contact preferences by using the school division's web-based update tool (ACPS login required).
Other options exist for checking the division's school schedule status as well:
Visit the ACPS website. When we have important announcements to share, such as a school closing or delay, we will activate our web alert system to help communicate school schedule changes. The system uses popup messages to alert website visitors to important information.
Tune in to local media. School schedule changes are broadcast on several local radio and television stations, as well as local media websites.
Curious about our liberal leave policy? Check out School Board Policy GCQC, Coverage of Schools Due to Weather and/or Emergency. Section II explains liberal leave.
For more information and resources, please visit our Closings, Delays & Early Dismissals web page.