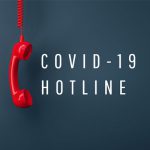 Albemarle County Public Schools understands that, for many in our community, the COVID-19 pandemic has created new hardships or further complicated preexisting issues. We are here to serve our community, and we want to provide as much assistance as we can during this turbulent and uncertain time.
In an effort to increase our ability to help our community members, ACPS has launched a COVID-19 Hotline. The hotline is accessible by phone or email:
Please note that callers will be greeted by a recording and asked to leave a message.
We encourage ACPS students, employees and families to use the hotline to request help finding resources for things like mental health support, food, and other small material requests. In return, we will do anything we can to help those who reach out to us.
School division staff will respond to hotline messages within 24 business hours. The hotline is not intended for emergencies or highly time-sensitive requests.
Should I report to work?
If you are an ACPS employee who is questioning whether or not to report to work, please do not call the COVID-19 Hotline.
Transportation, Child Nutrition & Building Services employees: Please call 434-249-2426 between 9 a.m. and 6 p.m., Monday-Friday.
School-based employees: Please call your school nurse.
All other school division employees: Please call the ACPS COVID-19 Coordinator, Eileen Gomez, at 434-249-4625 between 8 a.m. and 5 p.m., Monday-Friday.