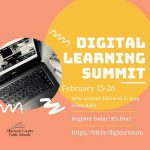 Join members of the ACPS Learning Technology team for the first annual Digital Learning Summit, going on now through February 26. Each day, participants will receive short "minute-to-master-it" videos and longer prerecorded sessions that cover a range of themes, such as media literacy; online engagement; effective screencasting; Minecraft for virtual/blended learning spaces; and SEL resources for teachers and students from ACPS counselors.
Finally, in celebration of Digital Learning Day, you will have the opportunity on February 25 to attend a keynote address by Dr. Kevin Smith, a math, STEM, and educational technology professor at Dakota State University. Sign up for reminders, to gain access to the free keynote speaker, and to receive professional development points!
For more information about dates, times, recertification points, and a complete list of our themes, visit our Digital Learning Summit site.