Attention All ACPS Employees: Are you ready to do something fun to raise funds for a worthy cause? This year, ACPS employees have chosen to support Kindness Cafe + Play, a local non-profit coffee shop that employs adults with cognitive disabilities and seeks to remind our community of the value of kindness.
Any day this week, May 10-14, you are invited to participate in our fundraising efforts. Here's how you can get involved:
Wear your favorite pair of jeans to work (wherever your work location)!
Visit the Public Education Foundation of Charlottesville-Albemarle (PEF) website and click the "Donate Now" button to donate $1.00 (or more).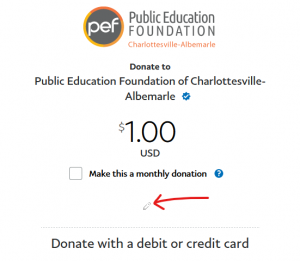 Important: When you make your donation, please indicate that you are donating to Kindness Cafe + Play. (Hint: If you choose to donate with a debit or credit card, you can click on the pencil icon and write in, "Kindness Cafe + Play.") We have talked with Alden English, WAHS alumnus and officer for the PEF, and he explained that once the fundraiser is complete, the PEF will donate the sum of all of our donations to Kindness Cafe + Play.
The donation window will remain open through Friday, May 21, 2021.
As a reminder, ACPS employees donated nearly $2,700 for the Blue Ridge Area Food Bank two years ago, and last year, with a $1,000 match from the PEF, we raised a grand total of $4,894 for the ACPS Families in Crisis Program!
Thank you in advance to everyone who participates in our fundraising efforts. When we come together, we can do great things!