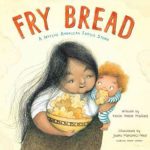 Monday, May 24, 2021 | 4:45 to 5:45 p.m. | Zoom
Dear Colleagues,
We'd like to invite you to join our first Community Read Aloud at 4:45 p.m. on May 24, featuring the children's book Fry Bread, by Kevin Noble Maillard. During this time together, we will read and participate in an interactive discussion of themes from the book, which center around Native American diversity, equity, inclusion and history. We'll also make our own personal, cultural connections to this wonderful text.
On Monday, May 24, at 4:45 p.m., click here to join us on Zoom.
This is the first in a series of events sponsored by the ACPS Cultural Ambassadors Program in which educators join in fellowship with families and community to read and discuss short texts through an anti-racist and culturally sustaining lens. We are excited to see you for this event!
Respectfully,
Ayanna Mitchell, LaNika Barnes & Lars Holmstrom
on behalf of the Cultural Ambassadors Program