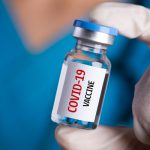 At their meeting yesterday evening, the Albemarle County School Board adopted a resolution that aligns the school division with an Emergency Order issued by County Executive Jeff Richardson on Wednesday. The resolution requires all employees to either be fully vaccinated against the COVID-19 virus or to show proof each week of a negative test for the virus. The requirement will go into effect Wednesday, September 15, for all local government and school division employees.
The school board directed the school division to develop procedures for how the new requirement will be implemented. It also delegated to Superintendent of Schools, Dr. Matthew Haas, the authority to implement and modify vaccination and testing procedures based on changing conditions and in accordance with the requirements of the Centers for Disease Control and Prevention (CDC), the Virginia Department of Health, the Blue Ridge Health District, and other applicable health authorities.
Earlier this month, Governor Ralph Northam issued a similar requirement for some 122,000 state employees that will take effect on September 1.
In a presentation to the school board last evening, the division, using the most recent reports from the Blue Ridge Health District, said that COVID-19 infections in the county have increased by more than 50% in recent days, putting Albemarle County in the substantial risk category for virus transmission. The rate of positive COVID-19 tests also is increasing, although it remains in the low risk category.
More than three out of four eligible school-age children in the county are fully vaccinated according to the health district, and vaccination rates among adults range from just over 50% for those in the 18 to 24 age group and are progressively higher in each subsequent age category, reaching 80% for most senior citizens.
In its resolution, the school board said it "has a substantial public interest in protecting the health and safety of its students, staff, and community and ensuring that the school division can provide staff and students with a safe and effective educational environment that supports student achievement."
It described employees as "essential to the efficient education of all students and their social and emotional well-being," adding that the recent presence of the COVID-19 Delta variant has led to a surge in which 90% of infections are occurring in individuals who have not been vaccinated against COVID-19.