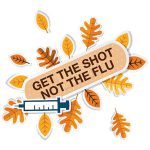 All Albemarle County employees (including part-time, temporary, substitutes, interns, and student teachers) and all public safety volunteers (Fire Rescue, Police, Sheriff's Office) are eligible to receive flu and other vaccinations with no out-of-pocket cost, even if you are not covered on the County health plan. On-site flu clinics are now available!
Before you go, please fill out the Vaccine Consent Form. Also, bring your Anthem card with you if you are on the County health plan.
The following vaccines will be available as supplies last: Quadrivalent Flu and High-dose Flu, MMR, Tdap, and Shringix. Learn more on the BeWell Albemarle website.