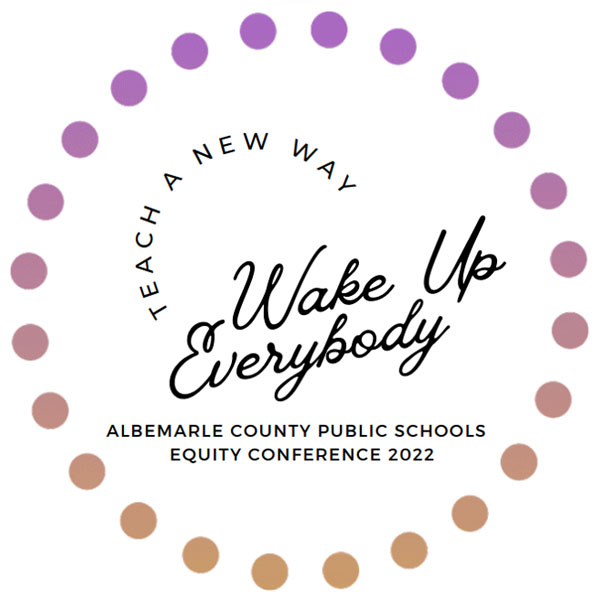 Saturday, June 11, 2022 | 9 a.m. to 3 p.m. | Monticello High School | Registration
The ACPS Equity Specialists and Conference Committee are pleased to offer the 2022 Equity Conference on Saturday, June 11, from 9 a.m. to 3 p.m. at Monticello High School. In addition to hearing from educators who are engaged in our collective work to eliminate practices that produce inequitable outcomes for students, participants will discover what it means to be an ACPS Culturally Responsive Educator. We will also recognize our most recent CRT certified and micro-credential candidates.
Join us for this exciting learning opportunity! Click here to register.
Please note: This is a professional conference; participation yields 6 recertification points.
About Our Theme: Wake Up Everybody, Teach a New Way
For the past few years, our ACPS Equity Specialist Team has chosen a song for our annual conference theme—a song that represents our mission. This year's song is Wake Up Everybody, by Harold Melvin & The Blue Notes (November 1975). This year's corresponding theme, "Wake Up Everybody, Teach a New Way," is a call for educators to use their considerable talents and relentless dedication to students to make measurable differences in their classroom. The lyrics talk about challenges that have been with us since the beginning of time. Ironically, because the persistence and pervasiveness of these inequalities seem insurmountable, some have been led to give up. This cannot be our future.
Now is the time for educators across our division to WAKE UP to a new way of teaching and connecting with students and families. As the song says, "The world is in their hands. When you teach the children, teach 'em the very best you can." For many of us these past few years, our annual equity conference has taught us how to teach the very best we can. It has re-energized our passion and belief in our students. The potential of every child will always matter. As the song reminds us, "The world won't get no better if we just let it be."