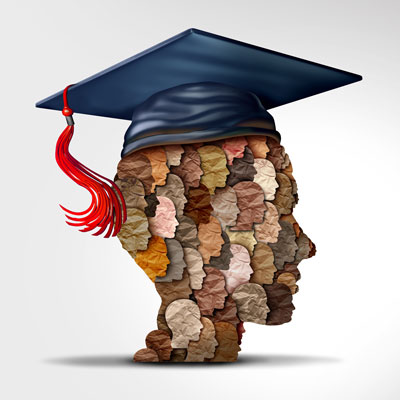 Welcome to the second issue of Spotlight on Equity Education! In this issue, we're talking about resources for those who are seeking a credential in Culturally Responsive Teaching (CRT); an upcoming virtual session to help our community better understand the purpose and value of CRT; Indigenous Peoples' Day; and Hispanic Heritage Month. Plus, we've included the October calendars for CRT Credentialing and observances and holidays.
Are you seeking a Culturally Responsive Teaching (CRT) Credential this year?
Please take a moment to submit a CRT Candidate form and connect with an Equity Specialist (if you haven't already) to make sure that you're off to a good start in the work. Current-year book study sessions are underway, and the first division cohort session is coming up soon! Credentialing candidates should register for division cohort sessions in the PLMS. We are excited to see all of your good work this year.
Do your students' families or friends in the community ever ask, "What's Culturally Responsive Teaching?"
The Office of Community Engagement is hosting an online community session to provide information to all who want to learn more about the topic. Anyone interested should register via the Open Doors website and plan to attend on Thursday, October 20, from 6 to 7:30 p.m. on Zoom.
This month marks the second anniversary of the proclamation recognizing Indigenous Peoples' Day as a national holiday.
Since 1990, various cities and states across the nation have observed this civic holiday, often in opposition to the recognition of Columbus Day. Currently, both are considered federal holidays observed on the second Monday of October. This year, the second Monday falls on October 10. This article from National Geographic describes the origins of both holidays and describes the tension we find between the two.
National Hispanic Heritage Month is celebrated annually from September 15 – October 15.
As we move into the second half of Hispanic Heritage Month, we'd like to acknowledge and celebrate the 2,232 pre-K through 12th-grade students in our division who identify as a part of the Hispanic membership group. Our diversity resource teachers are currently engaging in Community Asset Mapping to highlight the many local Hispanic-owned businesses and other organizations that contribute to our shared community and to identify the demographic changes we've seen in our community over time.
CRT Credentialing Calendar
October 3 | Expedited Module Course opens in PLMS (not intended for current-year book study participants)
October 12 | Open for ALL candidates in multiple roles: First Division Secondary and Elementary Cohort Meetings
October 20 | Community Session: What Is Culturally Responsive Teaching?
October 24 | Morning book study (Culturally Responsive Teaching and The Brain) begins: Register in the PLMS
Holidays and Observances
Hispanic Heritage Month: September 15 – October 15
Yom Kippur: October 4 (sunset) – October 5 (nightfall)
Indigenous Peoples' Day: October 10
Columbus Day: October 10
Diwali: October 24
Halloween: October 31
---
ACPS Equity Specialists are available to provide Professional Learning Community (PLC) and school-level support for Culturally Responsive Teaching practices and to assist in helping teachers work through the credentialing process. For support or assistance, please reach out to the specialist(s) assigned to your school or email the full equity specialist team.