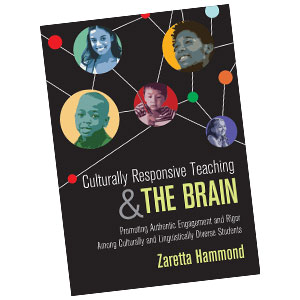 Do you plan to pursue certification or a micro-credential in Culturally Responsive Teaching next year? The Culturally Responsive Teaching & the Brain book study is a prerequisite for submitting your intent to pursue. This book study (revised in 2022) prepares candidates through professional learning aligned with the division's Culturally Responsive Teaching Framework and opportunities for reflection and personal growth. Submissions for credentialing require reflections on professional learning and professional growth, along with evidence of application and student growth. Successful completion of our spring book study will allow candidates to begin the year planning toward application of strategies and documenting student growth.
Book study sessions will begin on Tuesday, February 21, 2023. We are offering the following meeting times:
Join us! Please use the links above to register through the PLMS for the session that works best for your schedule.