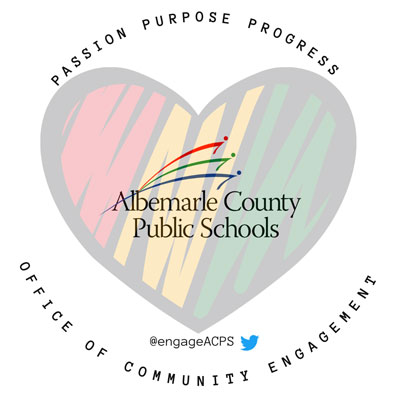 In our first 2023-24 issue of Spotlight on Equity Education, we will introduce you to our new team members; tell you about Albemarle County Government's 21-Day Equity Challenge; talk about the connections between Culturally Responsive Teaching and Responsive Classroom for our elementary educators; and share information and dates regarding culturally responsive certification and micro-credentialing for this school year.
Equity Team Spotlight
Welcome to the 2023-24 school year! Our returning equity education specialists, Shay Carter-Shifflett, Megan Washburn, and Steven Turner, are eager to continue collaborating with schools and educators. Joining our team of equity education specialists this year are Melissa Hairston, Ed.D., and Rosaura González-Muñiz. Also, Russell Carlock, Ed.D., NBCT, has joined the Office of Community Engagement (OCE) as an educational equity data scientist. We are all excited to start a new school year and partner with you to close educational gaps for ACPS students!
21-Day Equity Challenge
Albemarle County Government's Office of Equity & Inclusion developed the 21-Day Equity Challenge to help adults explore and understand different aspects of equity, such as race, gender, sexuality and ability. The challenge seeks to inspire participants to actively contribute to creating a more inclusive and equitable county and world. Over the summer, our equity education specialists had the honor of partnering with the county's equity and inclusion team to develop similar experiences for students in grades K-8. If you are interested in learning more about the Equity Challenge, check out the project web page.
Responsive Classroom & Culturally Responsive Teaching
Responsive Classroom is an integral part of the start of the school year in our school division. Interactive modeling and morning meetings, for example, help establish routines and a sense of community within classrooms. Responsive Classroom has six guiding principles. The following principles align with our work as culturally responsive educators:
Principle 2 – How we teach is as important as what we teach.
Principle 5 – What we know and believe about our students—individually, culturally, developmentally—informs our expec­tations, reactions and attitudes about those students.
Principle 6 – Partnering with families—knowing them and valuing their contributions—is as important as knowing the children we teach.
On their website, Responsive Classroom offers several types of Diversity, Equity, and Inclusion Resources, including reports, articles, webinars, and coaching guides. Most of the resources are downloadable, but the coaching guides need to be purchased if you choose to use them. We encourage you to examine these resources and consider how they could benefit your culturally responsive instruction this year.
Culturally Responsive Teaching (CRT) Calendar
Culturally Responsive Teaching Credentialing Program Updates
Culturally Responsive Teaching Book Study
All teachers who have not yet completed the book study on Zaretta Hammond's Culturally Responsive Teaching and the Brain should complete it this year, either through their school or a division-level virtual book study. The Office of Community Engagement will offer book studies via Zoom on Division Professional Learning Community (DPLC) days during the times set aside for culturally responsive teaching work for each grade level. Registration for book studies will be available in the Professional Learning Management System (PLMS) the week of September 5.
All participants must register through the PLMS in order to receive credit toward credentialing and the 15 recertification points for course completion. Participants will complete assignments via Schoology and will attend at least four of the five synchronous sessions to receive credit.
New Micro-Credentialing Process
Beginning this school year, teachers who wish to pursue an ACPS micro-credential in culturally responsive teaching will need to register for three courses focused on the Characteristics of the Culturally Responsive Teaching Framework. Educators will receive a micro-credential upon successful completion of all three courses. For registration links and more information, please see this document: What Do I Need to Know About Micro-Credentialing?
Certification Process
The certification process will remain the same as it has in years past. Anyone who wants to pursue a certification will take a deep dive into all three Characteristics of the Culturally Responsive Teaching Framework. Certification candidates will demonstrate their learning and growth for each characteristic and outline how they have applied culturally responsive teaching to their practice. They will also gather data in a cyclical way across the year to identify, address and close achievement, access or opportunity gaps related to their role. To register, use this link: OCE 2023-2024 CRT Certification Cohort.
Holidays & Observances
August 26 – Women's Equality Day
September 4 – Labor Day
September 8 – International Literacy Day
September 10-16 – National Arts in Education Week
September 10 – National Grandparents Day
September 11 – Patriot Day
September 15 – October 15 – National Hispanic Heritage Month
September 15 – Rosh Hashanah
September 17-23 – Constitution Week
September 24 – Yom Kippur
---
ACPS Equity Specialists are available to provide Professional Learning Community (PLC) and school-level support for Culturally Responsive Teaching practices and to assist in helping teachers work through the credentialing process. For support or assistance, please reach out to the specialist(s) assigned to your school or email ACPSEquitySpecialists@k12albemarle.org.