Please keep reading for information about three important notices from Human Resources. The first addresses September payroll and provides useful links to the 2023 payroll calendar, the ADP Employee Portal, and tips for understanding your paystub. The second notice pertains to VRS/Securian's Optional Life coverage and a reduction in rates for some members. The final notice addresses compensation for summer work, including employees who taught summer school and those who participated in summer professional development.
September Payroll
September is a special month: It's the first payroll month of the new school year and it's a month that contains THREE payroll runs! Here are some good things to know about September payroll (and about payroll in general):
September payroll dates: Sept. 1, 15 & 29 (View the 2023 Pay Schedule.)
You can locate pay statements by logging in to your ADP Employee Portal. You can access ADP through a web browser or a mobile app on your phone or tablet. All employees should check their pay statements on a regular basis to confirm the accuracy of the information (mailing address, pay, benefits deductions, etc.). Check out these tips on Understanding your ADP Paystub.
Deductions for VRS contributions, benefits premiums, and retirement savings are deducted from the first two paychecks in each month.
The only deductions taken from a third payroll in a month are taxes, mandatory deductions like child support, and garnishments and arrears payments for amounts owed.
VRS/Securian Optional Life Rate Reductions
If you have VRS/Securian's Optional Life coverage, you may notice a reduction in your premium rates* this month if your age falls under the applicable tiers: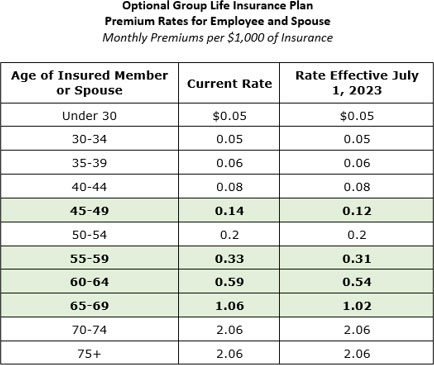 *If you are enrolled in this coverage, you'll see the deduction for this in your pay statement as VRS OPT GTL.
Want to learn more about your ACPS benefits? Our Employee Benefits site is available 24/7!
Summer Programs & Summer Professional Development Compensation Information
Human Resources would like to provide compensation information regarding two different summer programs. Employees participating in each program may have been informed that they would likely receive pay in the second August payroll run. Unfortunately, HR did not receive the necessary information in time for the second August payroll run. The school division requested an off-cycle corrective payroll run to remit payment more expeditiously, but the request did not meet the Payroll Department's threshold for approval. 
Summer School Incentive
Certified teachers who taught all but one day of their respective Summer School programs were eligible for a bonus. That bonus is scheduled to be paid on the September 1 payroll. ESY employees who qualified for a similar bonus will be compensated on the September 15 payroll.
Summer Professional Development
Quite a few of the school division's employees participated in one of multiple summer professional development (PD) training opportunities. July participants should have received their compensation in August, but June summer PD participants will be paid on the September 1 payroll. 
If you have any questions, please do not hesitate to reach out to Human Resources at HR@k12albemarle.org.