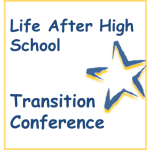 The Life After High School Transition and Resource Fair is a FREE event for middle and high school students with disabilities or special needs and their parents. This special event will include presentations, Q&A, a resource fair, door prizes, and refreshments!
Join us on Saturday, March 21, 2015, from 8:30 a.m. to 12:30 p.m., at CATEC, located at 1000 E. Rio Road in Charlottesville.
Presentations begin at 9 a.m. and will address such important topics as:
Successful Transition from High School to College
Job Coaches: Panel Discussion
Parent to Parent: Building a Life Locally
Medicaid Waivers
Successful Transition Planning and the IEP
Alternatives to Guardianship: Supported Decision Making Options
Social Security & Disability: Work Incentives
Assistive Technology options
And More!
Exhibitors will display information about available community resources. Knowledge about options and planning early are key to a successful transition to life after high school for all students.
For more information, contact Deborah Anama, Coordinator, at 434-975-9400 or danama@k12albemarle.org.