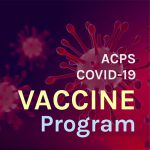 The CDC has dispatched emails to all ACPS regular full-time and part-time employees from the Vaccine Administration Management System (VAMS). The email, entitled, "Please register in VAMS to schedule an appointment," is marked [EXTERNAL] because it comes from a sender outside of the k12albemarle network. Rest assured: This email is not spam; it is a legitimate email.
Within the email message from the CDC's Vaccine Administration Management System, you will find a link to schedule an appointment for your COVID-19 vaccination. (Note: Substitutes, coaches, and other temporary employees will receive the same information by early next week.)
As we mentioned in the January 14 Compass update, while it may be difficult to secure an appointment initially, the county is working to set up our own vaccine clinic to expand and expedite appointment availability for all employees. To help inform this effort, all employees must complete a brief COVID-19 Immunization Intention Form by Tuesday, January 19. We will share details about this clinic as soon as they become available.
If you have questions related to the scheduling of the vaccine, or if you did not receive the email from VAMS and you feel that you should have, please email vaccine@k12albemarle.org.