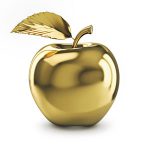 In a year unlike any other, it's more important than ever to recognize the hard work and dedication of our teachers.
Please help us honor your favorite teacher by nominating them for a Golden Apple Award. This year, our sponsor, Better Living Building Supply and Cabinetry, will provide each award winner with a $500 grant to use in the classroom. Nominate your favorite teacher today!
Eligibility
Candidates for this award are teachers at any level (preschool through grade 12) and in any discipline who have demonstrated excellence in teaching and involvement in the community outside the school.
Golden Apple Award recipients who received this award within the past three years are not eligible for nomination.
Nomination Criteria
The nominee exhibits the following characteristics:
Creates a love of learning in students of all abilities and backgrounds.
Stimulates thought and provokes student dialogue.
Challenges students to reach high standards and expectations.
Understands the needs of students individually and collectively, and meets those needs with determination, enthusiasm and imagination.
Involves families in the education process.
How to Nominate
New this year, you can nominate your favorite teacher online! Alternately, the nomination form can be printed in English or Spanish and returned to your school principal.
Deadline
All nominations must be submitted (online or to your school principal) by Friday, April 30.