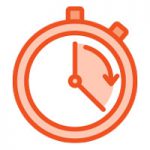 This is the first notice of a planned upgrade to Albemarle County's time and attendance system to Kronos version 8.1.6 on the evening of July 9, 2020. Changes affecting end users are described below.
We will send a reminder of the upgrade on July 8 with links to relevant documentation, including how to clear your Chrome browser cache, which is necessary to ensure you receive the upgrade.
The Kronos project team will send additional emails notifying users when the system is taken offline at 6 p.m. on July 9 and when it returns at approximately 6 a.m. on July 10. If you need to log time during the upgrade, you will track your time manually and have your supervisor enter the punches retroactively.
If you have any questions about the upgrade, please email time@albemarle.org.
---
Why are we upgrading to Kronos 8.1.6?
The upgrade ensures that we maintain web browser compatibility and provides a variety of important security and maintenance updates.
What changes will I see?
End users will see a few changes to how they use the system, as described below by employee group.  Documentation links will be included in our next email.
All employees:
Sign out link has moved to the right-hand side of the screen.
My Calendar: Toolbar look and feel has changed, but functionality is the same.
Leave requests: Retract option has been removed; instead, you right-click on the leave request and use the Cancel command.
Supervisors and Timekeepers:
Process of getting to your My Information page is simplified.
Look and feel of Request Manager has changed, but functionality is the same.
Will training be offered?
The Kronos project team has prepared documentation covering the system changes for end users. At this time, we are not planning to offer training because the changes mostly affect how the system looks. If you find that you need training on these upgrade changes, please email time@albemarle.org.
What if I need to access the system while the upgrade is happening?
While the system is offline, no one will have access. If you need to log time, please track it manually and have your supervisor edit your timecard on July 10 or at the start of the next work week.