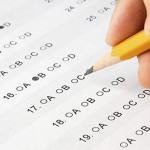 As you likely recall, the closure of schools in the spring led to a cancellation of SOL testing. The state has announced that SOL testing will resume this school year. Below is the most up-to-date information we have at this time. Middle and high schools will soon be sharing this information with families.
SOL Writing Test
Who: All eighth-grade and 11th-grade students currently taking a semester-long English course
Testing Window: November 23 – December 16
Students who plan to graduate by August 31, 2021, and are still in need of a verified credit in writing have an additional opportunity to take the writing test this week, October 26-30.
SOL Non-Writing Test
Who: Students enrolled in a semester-long course that has an SOL test associated with it
Testing Window: December 18 – January 29
More Information
The state does not allow SOL tests to be taken virtually. The SOL Writing test also has an option for a student to postpone taking the test until the spring. A refusal to take the test will not be recorded or entered as a zero. However, students enrolled in high school courses must earn verified credits to meet graduation standards. (A verified credit is earned by passing both the course and the SOL test for that course.)
Schools will provide specifics to families regarding which test(s) each student needs to take and relevant testing dates.
Transportation for testing will be provided upon request. Students will return home at the end of the school day unless they have arranged private transportation home. Lunch will be provided and students should bring their charged computer with them to school.
The health and well-being of all students and staff is our highest priority. During in-person testing, we will continue to strictly follow the requirements of our health plan, which includes the disinfection of surfaces and the enforcement of hand hygiene, the wearing of face coverings, and maintaining physical distancing between students and staff. You can learn more about our health and safety practices on our Health and Safety Practices web page.
Questions may be directed to your principal or School Testing Coordinator.