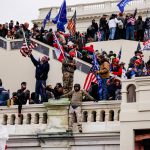 Dear Colleagues,
We witness events like yesterday with dual responsibility as citizens and as educators. To that end, I am sharing resources to support you as you help students to process the events of January 6. I have copied below the foreword from a resource provided by Facing History and Ourselves and highlighted in bold the operative phrase that speaks to the necessity of giving our students the opportunity to process their emotions as well as understanding with facts what happened:
In his 1963 essay "A Talk to Teachers," James Baldwin wrote: "American history is longer, larger, more various, more beautiful, and more terrible than anything anyone has ever said about it."
In the events surrounding the recent presidential election in the United States, the essential truth of Baldwin's statement resonates anew.
This week's news alone, including the historic results of the Georgia senatorial runoff election and the attack on Congress, is provoking a whirlwind of conflicting emotions among Americans, as many are simultaneously buoyed by the expanding representation in our government and disturbed, angered, and frightened by the attack on the halls of Congress and our democratic system of government. In the days following these events, students will need opportunities to feel and express their emotions as well as support in separating facts from misinformation and sharing the news responsibly.
Beyond the Facing History and Ourselves guide, I am also sharing a blog post from Teaching Tolerance and a resource guide produced by the New York City Department of Education. Please review these resources for processes that will enable you to act with intention and resources that will help you and your students learn from this experience:
Sincerely,
John Hobson
Lead Coach, Social Studies