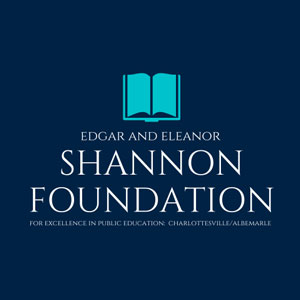 For more than 30 years, the Shannon Foundation has awarded grants to teachers for innovative classroom programs and projects. The Foundation offers two levels of financial support: Level 1 grants of up to $750, which are awarded to individual teachers or a team of teachers with a unique learning idea, and Level 2 grants of up to $5,000, which are awarded to school teams led by a coordinating teacher or building administrator.
It couldn't be easier to apply for a grant. Teachers can visit the Foundation's 2022-2023 Grant Application and submit an idea within a matter of minutes. All submissions must be received by April 15, 2022. For assistance with or questions about completing your grant application, contact Helen Dunn or Phil Giaramita in the ACPS Office of Strategic Communications.
The Edgar and Eleanor Shannon Foundation for Excellence in Public Education was established in 1990 to support public school teachers in Albemarle County and the City of Charlottesville. Teachers who have received grants link the projects they fund to greater enthusiasm for learning among their students. All administrative costs for the foundation are funded through contributions from its board of directors, so 100% of monies received from the public are used for school projects.