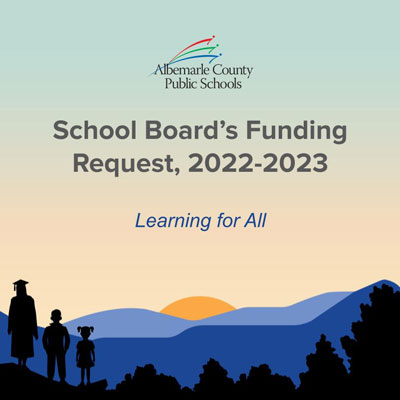 At its business meeting on March 10, the Albemarle County School Board unanimously approved its 2022-23 funding request, which includes a 6% salary increase for employees effective July 1. This would be in addition to the 4% increase that took effect on February 26.
School board chair Graham Paige and vice-chair Katrina Callsen will present the funding request to the Albemarle County Board of Supervisors on Monday, March 14, at 3 p.m. The public can watch the presentation via livestream. Following a review and public hearing of the county executive's overall proposed budget, which includes schools, the school board expects to adopt a final budget for the 2022-23 school year on May 12.
The funding request approved last evening would increase next year's budget by 14.6%, or $30.8 million. Next year's funding would total $242,041,753 compared to this year's budget of $211,246,077.
Among other highlights in the funding request are:
The redesign of our Human Resources capabilities, moving from an HR staff shared with local government to a model 100% dedicated and focused on the staffing needs and employee support services of Albemarle County Public Schools employees;
An investment of $2.1 million to add 46 school-based substitute teachers to classrooms; and
An in-depth market analysis by an outside consultant of the division's compensation strategies and practices across all classified and instructional positions. The study will yield recommendations for changes that would increase the school division's competitive strength and its ability to recruit, develop and retain outstanding employees. Implementation of these changes would begin in the next fiscal year.
Interested in learning more about what's in the funding request for next year? Check out this video, in which Superintendent Dr. Matthew Haas shares the 2022-23 Draft Funding Request with our Legislative & Public Affairs Officer, Dr. Helen Dunn:
Employees can visit the 2022-23 Budget Development web page to access budget materials, including the budget book, budget presentations, and more.