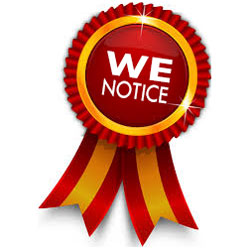 We are excited to announce the start of our annual We Notice program! This is an opportunity to recognize a colleague whose work you would like to celebrate. This recognition can be given to any employee who works in our schools, such as teachers, office staff, building service team members, teaching assistants, cafeteria workers, school nurses, and bus drivers. 
Nominations will be accepted through Sunday, March 27, from students, employees, and community members. Click here to nominate a staff member »
The division will host an Employee Recognition Celebration for all We Notice nominees on Tuesday, April 26, from 4:30 to 6 p.m. at Monticello High School. A special ceremony will be held for Transportation employees on the same day from 10 to 11 a.m. at the Vehicle Maintenance Facility.