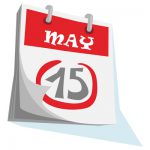 ACPS employees recently selected our own Families in Crisis Program to support through a school division-wide fundraiser. This year, our fundraiser will take place as a "Wear Your Pajamas to Work Day" on Friday, May 15!
Here's how you can participate:
On May 15, wear your pajamas while you work!
Visit the Public Education Fund of Charlottesville-Albemarle (PEF) website and contribute $1.00 or more.
Important: When you make your donation, please indicate that you are donating to Albemarle County Public Schools. Once the fundraiser is complete, the PEF will donate the sum of all of our donations to our Families in Crisis Program, plus they'll match our donations up to $1,000!
The donation window will remain open until May 22. Last year, our division-wide fundraiser raised $2,692.53 for the Blue Ridge Area Food Bank. Let's try to exceed that amount this year!
---
Albemarle County Public Schools' Families in Crisis Program is a federally-funded grant authorized by the McKinney-Vento Homeless Education Assistance Act​ through Project Hope. The program is meant to ensure the enrollment, attendance and success of homeless children and youth in school. In addition, emergency services, referrals for health services, transportation, school supplies, and costs related to obtaining school records may be provided.