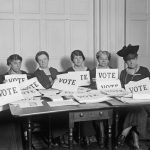 The U.S. Court of Appeals for the Fourth Circuit has announced their 2020 Student Essay Content: The Right to Vote.
2020 marks the 100th anniversary of the ratification of the 19th Amendment to the United States Constitution, extending the right to vote to women and expanding on the principle of equality. Students in grades 9-12 are are invited to consider and share their thoughts on the following questions:
What barriers remain today in exercising the right to vote?
What changes, if any, would you make to protect or expand voting rights?
Essays are limited to 1,000 words and must be submitted by Wednesday, April 15, 2020. Students have the opportunity to win one of three cash prizes: $2,000 for first place; $1,500 for second place; and $1,000 for third place. Winners will be announced in July, and travel will be provided to the court's Essay Awards Program in September 2020. Learn more »