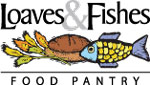 In case you missed it in last week's Superintendent's Weekly Check-in, the beneficiary of the 2023 ACPS Employee Fundraiser is Loaves & Fishes Food Pantry! Our fundraiser is open now and will run through Friday, May 12. We invite you to show your ACPS spirit and donate $1 or more to our fundraiser!
How to Donate
You can donate with a debit or credit card, or with PayPal, by clicking on the link below:

After you enter your gift amount, please also enter the name of your school or department. Representatives from the school or department with the largest percentage of participants will help us present the check to Loaves & Fishes!
About Our Beneficiary
Loaves & Fishes Food Pantry exists to provide food assistance to families and individuals in need in Charlottesville and surrounding communities. They do this by providing free groceries once per month to low-income households and helping them stretch their food budgets farther as they try to get on their feet financially. Loaves & Fishes is the largest distribution partner of the Charlottesville branch of the Blue Ridge Area Food Bank.