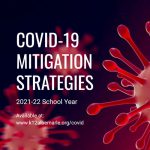 Wednesday, August 18, 2021 | 6:30 p.m. | Zoom
All employees are invited to join a community information forum devoted to the school division's COVID-19 mitigation strategies. The session will be held at 6:30 p.m. on Wednesday, August 18, over the Zoom platform. We encourage you to take this opportunity to ask questions about the safety measures we are implementing for the 2021-22 school year. The link to join the session will be posted in the Spotlight section of the ACPS homepage.
To continue to protect your health, as well as that of our students, families and visitors, from COVID-19 transmission in our buildings, the division will be employing a multi-layered range of mitigation strategies and practices, including a requirement that masks be worn inside schools when students are present. During Wednesday's forum, the division's Chief of Strategic Planning, Patrick McLaughlin, will discuss the health and safety strategies that will be in place to prevent virus transmission in our schools and offices. Chief Operating Officer, Rosalyn Schmitt, and Legislative & Public Affairs Officer, Helen Dunn, will respond to questions as they come in through the Zoom chat.