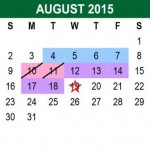 Each year, the Calendar Committee works to produce a school calendar that supports our goals to engage students, improve opportunities and achievement, and get the most productivity out of our resources. Your feedback is an essential part of this process!
At this time, we ask that you please review the initial draft of the 2015-16 school year calendar, and then, let us know what you think by participating in a short survey:
The survey will close on Wednesday, December 3, at 11:59 p.m.