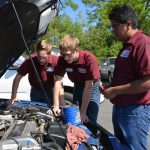 Need an oil change? Brake pads squealing? Check engine light on? AC running a little warm? Leaking transmission fluid? CATEC's Automotive Technology Program invites you to bring in your vehicle for service!
CATEC's service center is open for business Tuesday through Thursday by appointment. No labor fees! Customers pay only for parts, though a small donation to the automotive program is always much appreciated. Open the flyer »
Vehicle service is available to ACPS and CCS employees, along with their family and friends. Call 434-973-4461 to schedule an appointment!
CATEC Automotive Program—Training Tomorrow's Technicians Today