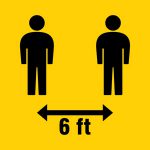 A story by one of the media outlets in Albemarle County last evening stated that the school division will be implementing a CDC recommendation issued last Friday that says school divisions can reduce their physical distancing requirement from six feet to three feet.
This online story has been updated to make it clear that no such decision has been made by the school division and there are no plans at the present time to make any changes to the division's physical distancing requirement of six feet. The corrected story now reads:
The school division is currently studying ramifications like how classrooms would be configured, bus routes and staffing.
There will be consultations with staff, parents, and the Albemarle County School Board. Superintendent Dr. Matthew Haas will take all of these considerations and make a recommendation to the school board.
This process will take weeks as the school division is working on completing its evaluation of the CDC recommendations.
As the story now states, the division only now has begun the process of evaluating the CDC recommendation and how it would affect school division operations. This process will include close consultation with those who would be affected, including administrators, teachers, staff, families, and the School Board.
Only thereafter would the Superintendent consider whether it is in the best interests of families, students and staff to recommend any changes to the school division's current operations. Any such recommendation would need to be approved by the School Board before it could be put into effect.