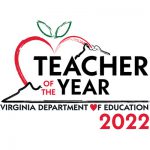 Each year, the Virginia Department of Education (VDOE) selects one teacher as its teacher of the year for the Commonwealth. The award is named for Mary V. Bicouvaris, who began her 26-year teaching career in Hampton and, in 1989, was named the National Teacher of the Year.
Based on the incredible work of our teachers every year and most especially this year, the Teacher of the Year Program is an excellent opportunity to recognize the impact our teachers are making in the lives of our students, families and colleagues. All teachers are invited to apply to represent our school division in this statewide program. Any teacher can self-nominate or nominate a colleague for consideration as Teacher of the Year.
We want to begin the process locally by asking interested teachers to complete our 2022 Teacher of the Year Interest Form by Friday, May 7. In return, we will reach out to all interested teachers with more information about the application process. The VDOE application window closes on May 28, so the turnaround time is short.
As part of this process, ACPS will also select and formally recognize an Albemarle County Teacher of the Year! Candidates for both the VDOE and ACPS Teacher of the Year should:
Inspire students of all backgrounds and abilities to achieve their highest potential;
Collaborate with colleagues, students and families to create and foster a school culture of respect and success;
Play an active and innovative role in connecting the classroom and the community to advance engagement and excitement around learning;
Demonstrate leadership inside and outside the classroom that embodies lifelong learning;
Possess knowledge about their teaching areas and the education profession with an emphasis on continuing professional development and growth;
Be able to communicate effectively with and generate support among all audiences; and
Demonstrate a strong commitment to equity.
Please note that as part of the state application, teachers are asked to submit five narrative essays (each with a maximum length of 500-750 words), including:
Professional biography that describes the factors that influenced the candidate to become a teacher;
Philosophy of teaching that describes a project that improved school culture;
Strategies that connect students to the community;
Lesson or unit that engages students of all backgrounds and abilities; and
Perspectives on the most important issues in education today. 
For more information, contact Phil Giaramita at pgiaramita@k12albemarle.org.