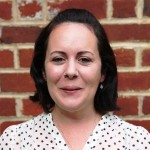 Need assistance with grant writing? Looking for funds for a classroom project? Interested in arranging a visit from one of our elected officials? If so, be sure to connect with Nicole Storm!
Nicole recently joined the Office of Strategic Communications as the Legislative and Public Affairs Officer. In addition to serving as the liaison between ACPS and our elected officials at all levels of government, Nicole is here to provide support in grant writing and public affairs. If you are seeking funds for an innovative project in your classroom or for your school, or you would like assistance facilitating a visit from one of our elected officials, please email Nicole.
Prior to joining ACPS, Nicole worked on strategic planning at the Virginia Tech Language and Culture Institute. She brings experience in both level public policy and nonprofit management.