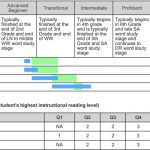 Teachers: An Elementary Report Card Resources web page (login required) has been created on the SIS Support site and will be a central repository for information about the new elementary report card.
Some of the resources available include:
An overview document providing step-by-step directions for completing data entry in the PowerTeacher Pro gradebook and for viewing the report card;
A link to the presentation shared at school faculty meetings;
Links to ACPS Literacy guideline documents;
A listing of all of the new Language Arts standards;
Blank and sample report cards (in English and Spanish) that can be downloaded or printed; and
Answers to frequently asked questions.
We will continue to update the site with resources and answers to questions. If you experience technical problems or have questions about using PowerSchool to implement the new language arts report card, please email SIS Support for assistance.