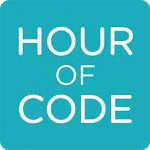 Computer coding is everywhere! A stoplight changes color… you click a link to visit a website… your students customize a world in Minecraft… all of these are examples of coding in real life. Hour of Code, held the week of December 9-13, is an opportunity for students and teachers to connect coding to their own experiences and to learn more about coding.
The Department of Technology has compiled resources for all age groups, content areas, and experience levels. Our goal is for ACPS students to code 5,000 hours during Hour of Code week. We have over 2,000 hours of code preregistered and are almost halfway to our goal!
Please visit our Hour of Code website to register your students and review lesson materials. When you register, you will be entered to win prize packs for you and your students!