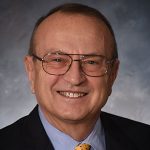 Dear Teachers and Classified Staff,
I am writing this note to you because at this difficult time in our community, country and world, you remain among the most important contributors to the lives of children. You continue to invest yourselves in educating and supporting those who will one day lead us, including through such hard times as those now before us. Our School Board could not be more grateful to you.
Many of you undoubtedly read Dr. Haas' message earlier this week about the severe reductions in projected revenues for our division both this year and next. As he pointed out, the now expected loss of several million dollars from our budget this year and next as the result of COVID-19 is forcing difficult decisions on all of us.
So far in the current online budget survey, employees, parents, students, and community members at large have said the three priorities they value most in this financial environment are protecting students in the classroom, protecting current employees, and protecting the gains we have made in equity.
Doing our best to meet these goals means not proceeding, at least at the present time, with the compensation increases that were in the budget we sent to the Board of Supervisors in February. Just as businesses, organizations and families across the country are cutting back to preserve operations, we have no real choice but to do the same.
As we talked about in our School Board meeting last week, all of our employees well deserve the salary increases that were provided for in the budget we proposed in February, which also included a minimum wage of $15 an hour. It is tremendously disappointing that, at this point, we need to suspend the salary increases planned for July 1. It is our hope that local and state economies will improve later in the year, making it possible to revisit this decision.
Every one of our Board meetings since the closure of schools has included a briefing from school division staff on the services you are continuing to provide to our students and families. Your dedication reaffirms what we already knew to be true: We are incredibly fortunate to be associated with such extraordinary professionals as you. We are looking forward to when we can provide you with the compensation increases you deserve.
Sincerely,
Jonno Alcaro
School Board Chair