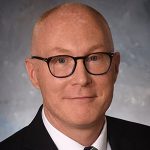 Dear Families/Colleagues:
As I continue to talk with our public health experts, visit schools to talk with employees, and hear from our parents and students, I'm learning a great deal about the depth of challenges we all face. I'm also learning about the incredible talent, determination and caring of our families and staff, qualities that cannot be diminished by a virus. And, I'm learning that I have not said "thank you" enough.
I hope you will take a few minutes to watch my video message and hear what I consider to be a very important message for all of us:
Thank you and please stay safe.
Respectfully,
Dr. Matthew Haas
Superintendent